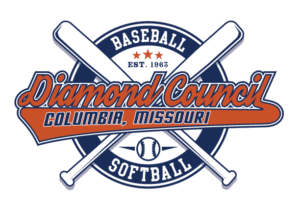 Inspired By Excellence & Innovation
Diamond Council is a non-profit organization of volunteers established in 1963 and run by a board of directors and executive committee.  We provide area youth an opportunity to play baseball and softball emphasizing fun, sportsmanship and skill development.  DC is partnered with the City of Columbia Parks and Recreations Department.  We register and organize our leagues and the Parks and Recreation Department prepares the fields for play each day.  Diamond Council is a volunteer organization, all our coaches are volunteers.  Teams are formed based on schools attending, volunteer coaches, and team sponsors.  Teams are NOT drafted on ability of skills.  All kids play! We encourage parents to volunteer to coach and help us provide a fun, safe place for kids to play baseball and softball. Any child can play, whether they can pay or not. We offer scholarships to any child in need.
Diamond Council also provides opportunities for more competitive players. These teams are formed outside of our direction. Coaches and parents assemble their teams and bring them to us. We provide them a platform to play, learn and grow at a higher level of competition.
If you would like to become a part of the largest youth sports organization in Mid-Missouri please don't hesitate to contact us. You may email us by clicking here.
You may also give us a call at 573-499-9741.